The BRIGHT consortium has been established to efficiently test, accelerate, scale up and implement the breast cancer precision screening solution.
All our activities are centered around the health-tech startup company Antegenes. The consortium also involves research partners including the well known Estonian Biobank managed by University of Tartu, healthcare payers in Sweden and Estonia, business partners from Spain and Hungary, and three hospitals where clinical feasibility studies of the AnteBC test will be performed.
The consortium may be viewed as a group of stakeholders and early adaptors setting historic path to a precision prevention solution in the field of community genetic screening for a common and deadly cancer. The path can be further and even more utilized by other cancer screening tests already existing in our portfolio.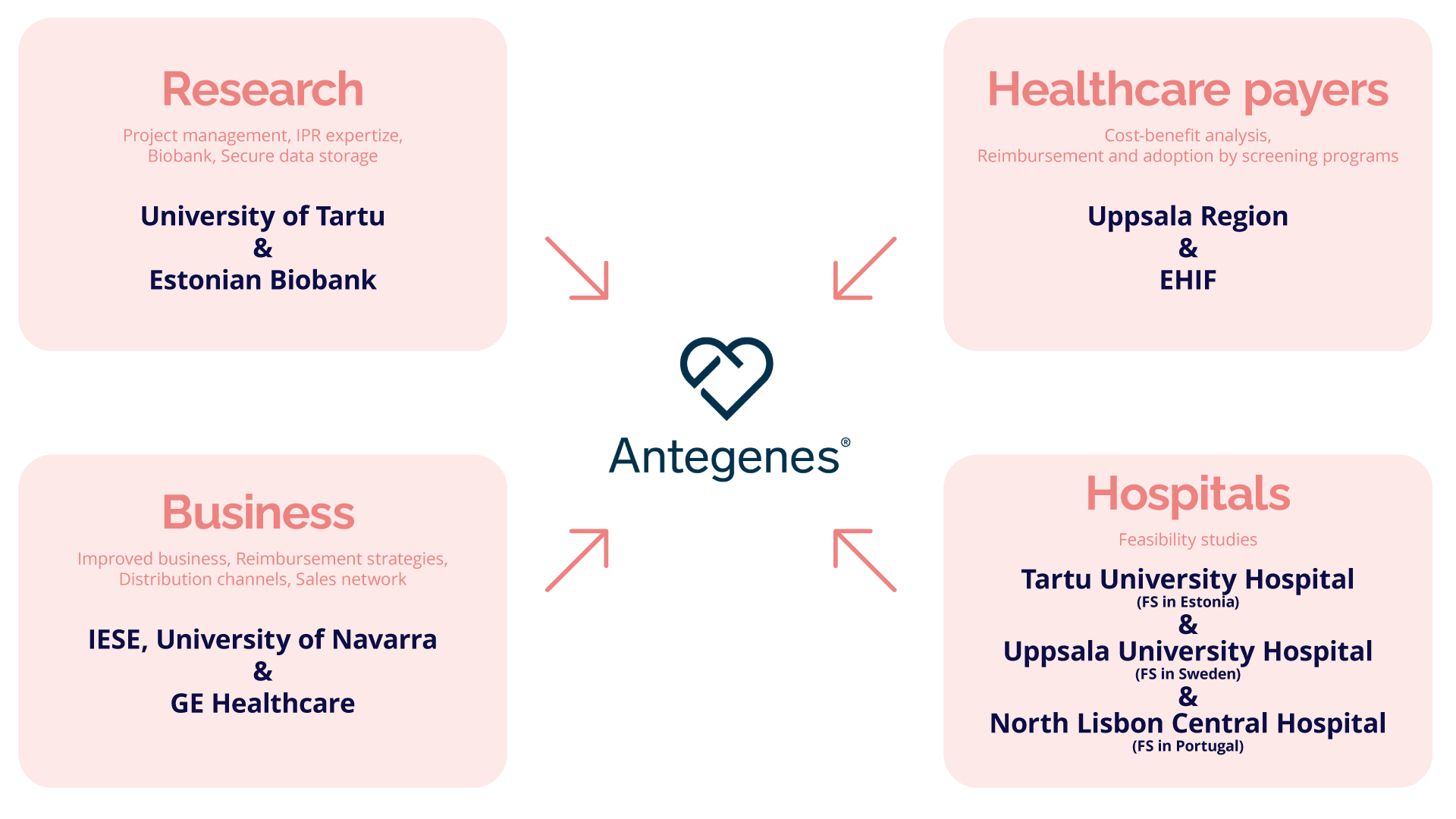 University of Tartu and the Estonian Biobank
Project is lead by the University of Tartu (UT), which is located in Tartu, the second largest city in Estonia that is well-known as the Student Capital of Estonia, the Intellectual Capital of Estonia and the City of Youth. UT belongs is 285th in QS World University Rankings. The Estonian university is among the two best universities in emerging Europe and Central Asia region (QS EECA). It's the oldest university in Estonia – Tartu was founded in 1632 – has four faculties: Humanities, Social Sciences, Science and Technology, Medicine.
The Estonian Biobank (EBB) is a population-based biobank of the Estonian Genome Center at the University of Tartu (EGCUT. Its cohort size is currently close to 200,000 participants ("gene donors" ≥ 18 years of age), which closely reflects the age, sex and geographical distribution of the Estonian population. Estonians represent 83%, Russians 14%, and other nationalities 3% of all participants. Genomic GWAS analyses have been performed on all gene donors, and RNA samples from 2,100 individuals are available for gene expression studies, along with 45 biomarkers from serum and plasma.
At the center of the project is a Estonian start-up Antegenes. Antegenes is an Estonian health-tech company founded in 2018 to make broad genetic information accessible for use in healthcare. The company developed novel polygenic risk score (PRS) tests to estimate the cancer risk level of individuals based on their genetic predispositions. Not only does Antegenes provide genetics-related cancer risk level assessment, but the company also provides comprehensive clinical recommendations on precision prevention and early detection. In 2021 were carried out over 10 000 PRS tests in Estonia. In the case of breast cancer, many women had high breast cancer risk and they were recommended to start breast cancer screening at earlier ages than what the current approach recommends. 42% of tested women were recommended to start screening earlier than age 50.
Tartu University Hospital
Tartu University Hospital is the largest health care provider in Estonia. High quality tertiary medical care is offered in nearly all specialities. At the same time Tartu University Hospital is the only institution to perform organ transplantations in Estonia. Kidney, liver, pancreas and lungs are harvested by University Hospital transplant surgeons team all over the country. Likewise pediatric patients with congenital heart diseases are referred to Tartu University Hospital and the center of clinical genetics serves the whole Estonian population.
Tartu University Hospital is the only academic hospital in Estonia. It plays a major role in both undergraduate and postgraduate studies of medical fields. As the leading teaching hospital all the staff is trained to supervise students and residents from the Faculty of Medicine but also nursing students and  collegues from other hospitals.
Estonian Health Insurance Fund
The Estonian Health Insurance Fund (EHIF) is a public organization whose most important task is to organize state health Insurance and provide insured health Insurance benefits, medical care and prevention activities. The main task of the EHIF is to organize national health insurance to provide insured people with access to necessary healthcare services, medicines, medical equipment and cash benefits. The mission is to ensure insured people the availability of health insurance benefits. The visionis to create a sense of security for members of society when they face health problems and seek medical care, so as to increase the number of healthy life years. The Estonian health care system is based on solidarity or unified health insurance. This makes it possible to provide the same quality medical care to all insured people.
IESE is the graduate business school of the University of Navarra. It has been at the forefront of management education for nearly 60 years, and it provides diverse programs and courses. The school continues to develop and inspire present and future business leaders to be the best they can be. IESE's activities are centered around a global mindset, a general management approach and a people-centered vision, with the ethics and social responsibility that this entails. We believe that companies are, above all, communities of people who work better in an atmosphere of respect and trust.
North Lisbon University Hospital Centre
The North Lisbon University Hospital Center (CHULN) is one of the main hospitals of the Portuguese National Health Service (SNS), and results from the merge of two important public University Hospitals, Santa Maria Hospital andPulido Valente Hospital.
CHULN has considerable assets inhuman resources, applied technologies and in accumulated know-how along with the support it renders to the populations from its area of direct influence, and with the guarantee of a differentiated referencial response in multiple clinical areas, both national and internationally, including in the Portuguese-speaking African Countries (the "PALOP").
By the end of 2020, the North Lisbon University Hospital Center had a total of 6.538 professionals, with over 1400 medical doctors, distributed across 11 Clinical Departments and 42 Clinical Units.
As a leading global medical technology, pharmaceutical diagnostics, and digital solutions innovator, GE Healthcare enables clinicians to make faster, more informed decisions through intelligent devices, data analytics, applications and services, supported by its Edison intelligence platform. We are committed to fostering an inclusive culture of respect, transparency, and unyielding integrity.
Region Uppsala is responsible for regional development in the county. The aim is to ensure an innovative and prosperous region offering attractive living environments for all. County works in dynamic cooperation with the county's municipalities, universities and business community across a variety of key issues to develop and secure a sustainable future of the county. Region Uppsala also provides high-quality health and medical care, efficient sustainable public transport, and a vibrant, high-quality art scene.